Any home or commercial building in Fremont, CA, should not only look good on the outside, but it should also look clean and safe. Conventional cleaning methods, such as mechanical scrubbing and chemicals, may not be the best option. They may not be effective at removing stubborn dirt. Worse, it may leave discoloration or damage to exterior surfaces.
Pressure washing is one of the best ways to clean your property quickly and efficiently and can increase the benefits of your exterior painting project.  
If you're thinking of sprucing up your commercial building, Custom Painting, Inc.'s professional crew provides pressure washing services, which is one of the most effective cleaning methods. Find out more about pressure washing in this article.
What is pressure washing?
Pressure washing involves the use of a high-pressure water spray to remove dirt, grime, filth, mud, mold, and loose paint from a range of surfaces. It is sometimes known as power washing.
That water spray, known as a pressure washer, is a mechanical device that uses a pump to generate a high-pressure stream of water. Depending on the model of the pressure washer, the amount of the water's pressure varies from 1,000 to 6,000 pounds per square inch (psi). However, the most common range for commercial pressure washers is around 1,500 to 3,000 psi.
While there are several types of pressure washers, the following lists the most common types:
By power source:

Gas-powered – A gas-powered pressure washer is more powerful than its electric counterpart, making it suitable for heavy-duty jobs such as cleaning sidewalks, driveways, walls with stubborn dirt, etc. Since it is powered by fuel, this pressure washer can be used indoors and outdoors without electricity. However, it tends to be noisy and is also not an environmentally friendly option.

Electric – An electric pressure washer is quieter than a gas-powered pressure washer. Also, it doesn't emit fumes, making it an environmentally friendly cleaning option. It may offer lower cleaning pressure than its gas counterpart but is often more than sufficient for small and light cleaning tasks. The main disadvantage, though, is that you can't obviously use it without electricity.
By water temperature:

Cold water – Cold water pressure washers are ideal for small-scale and everyday cleaning jobs, such as removing dirt, mud, grime, etc. Because cold water pressure washers generally use less energy than their hot water counterparts, they are suitable for routine cleaning tasks.

Hot water – Hot water pressure washers are effective for removing oil, mud, grease, grime, and other stubborn stains. The heat reduces the water's surface tension, enabling it to mix with detergents more easily and penetrate tough stains more effectively. In addition, the hot water can also be effective in removing pathogens like dirt and bacteria, sanitizing surfaces.
Benefits of pressure washing your commercial property
Pressure washers are usually powerful, versatile, and efficient at cleaning surfaces in many ways that traditional cleaning methods cannot do. Here are some of the benefits of pressure washing your commercial property:
It removes the toughest stains that traditional cleaning methods cannot.

It improves curb appeal.

It makes the business look more inviting

It promotes a safe and healthy environment.

It reduces recurring maintenance costs.

It prepares the surfaces for paint or other renovations.

It is an environmentally friendly cleaning option.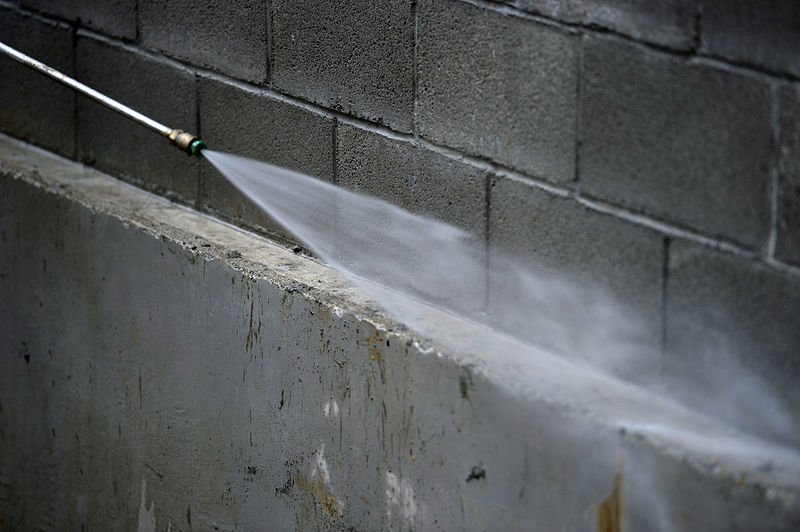 Why hire professional pressure washing services?
While there are many projects that homeowners or business owners can tackle with varying degrees of success, there are certain jobs that are best left to professionals. One of those jobs is pressure washing. Here are some benefits of hiring professional pressure washing services.
The services are enhanced by experience, which is something that a DIY-er will not obtain by reading a manual or guidebook.
You can get only the best cleaning expertise.

Professionals have state-of-the-art equipment.

They save you time, money, and effort.
Professional services give you peace of mind.
They provide consistent and quality results.
Choose Custom Painting, Inc. for your pressure washing needs
If you're thinking about cleaning, painting, or repairing your commercial property, reach out to Custom Painting, Inc. for some of the best pressure washing, painting, and light carpentry services the Bay Area has to offer. You can call us directly at 925-294-8062 or contact us on our website. We provide estimates always for free!