Do you want to give your commercial property or facility a refurbished, updated, and more professional-looking look while increasing its value? If your commercial building or facility looks dingy and outdated, it might be time for a paint job.
Look at Custom Painting, Inc.'s recently completed job at a large warehouse project at IPT-4 Grantline in Tracy, CA. With over 40 years of experience providing commercial painting services in Fremont and the Bay Area, Custom Painting, Inc. naturally excels at large commercial painting projects like this.
The IPT-4 Grantline warehouse measured about 600,000 square feet, and both the interior and exterior of the building had to be painted. Our paint crew used an estimated 3,000 gallons of paint for the project. As for the type of paint, we used elastomeric paint to achieve the necessary waterproofing. It took our paint crew around three months to complete the project.
How did Custom Painting, Inc. manage the challenges?
Our IPT-4 Grantline warehouse project was met with some challenges, just like many other paint projects we have tackled.
1) Painting the interior walls – IPT-4 Grantline Tracy warehouse had significantly high walls. The lower portion of the wall measured 10 feet tall, which was relatively high already. Therefore, we needed thorough prep work on that portion before painting it.
After the prep work, we painted the upper portion of the walls and had to return to paint the lower portion.
Another challenge – we could not paint from the ceiling down to the floor, so there was a noticeable transition line between the upper and lower sections of the wall. So, we needed to apply another coat of paint to smooth the transition, make the final coat look more uniform, and achieve a seamless finish.
2) Waterproofing the building – Our crew used Sherwin Williams Sherlastic elastomeric paint for the necessary waterproofing. We applied the paint according to the manufacturer's recommendations to reach the correct thickness. That way, the paint would work as intended.
3) Making the painting process as safe as possible – Our crew used wash-out barrels to avoid any possible environmental contamination. We also used containment systems under the barrels to prevent accidental spills from reaching the ground. Then they delivered the barrels to a hazardous materials facility.
4) Environmental and health concerns during the project – Like any other responsible painting service company, Custom Painting, Inc. is always mindful of the impacts of paints on the health and environment.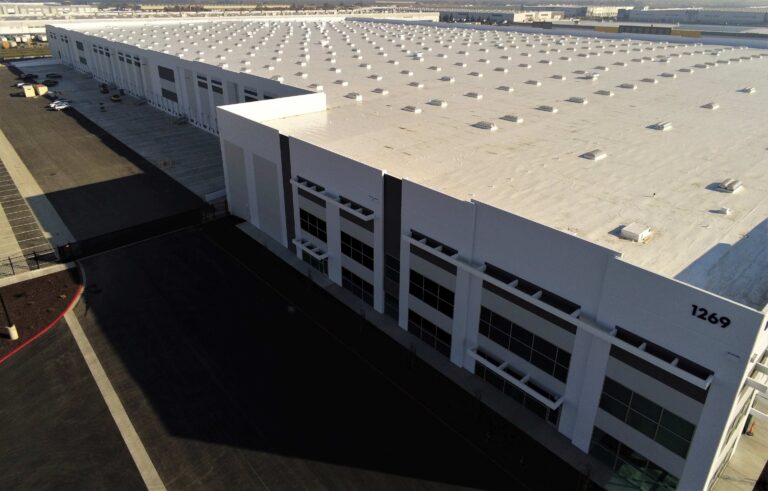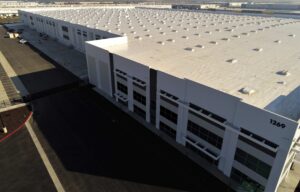 Painting an occupied building can present its challenges. It's definitely more difficult to paint an occupied commercial building than a vacant one. However, many businesses and facilities continue their normal operations while their buildings are being painted.
Commercial painting projects are typically time-consuming. As a professional paint company, we sought specific measures to minimize interruptions. Our crew would schedule our work to minimize disruptions to the warehouse staff, visitors, and customers and maintain a safe workplace while we were painting the facility.
Paint manufacturers create traditional paints with volatile organic compounds (VOCs), which include xylene, benzene, and toluene.
Exposure to such VOCs may have the following temporary or long-term effects on health, such as:
Headaches
Dizziness
Nausea
Breathing difficulties
Irritation of the eyes, nose, or throat
It could also trigger allergic reactions, particularly asthma
Long-term exposure could lead to severe ailments, such as certain cancers
To make indoor painting safer, the elastomeric paints we used have low VOCs. Elastomeric paints are typically environmentally friendly as they release less harmful fumes into the air, making them safe for indoor and outdoor painting.
How did we deal with hazardous materials?
As we said earlier, our paint crew used wash-out barrels for the project. The wash-out barrels were 55-gallon metal barrels with sealable lids. They allowed us to clean out our pumps, rollers, and brushes. These barrels were then collected and processed at Invert Environmental Consultants, a facility that manages hazardous wastes and materials.
In our commercial paint projects, we use containment systems under the barrels to make sure no accidental spills reach the ground.
California laws on the proper handling of hazardous materials
The California Health and Safety Code defines the term "hazardous material" as "a substance or waste that, because of its physical, chemical, or other characteristics, may pose a risk of endangering human health or safety or of degrading the environment."
Any substance or material is likely viewed as "hazardous" if it is considered harmful under any other environmental, safety, or transportation law or regulation. These include:
Substances that require a Material Safety Data Sheet under worker protection laws
Substances that are regulated as hazardous under transportation laws
Substances that are listed as radioactive under federal environmental regulations
Some common hazardous materials include:
Cleaning solvents
Compressed gases
Fuels
Oils
Paints
Radioactive materials
Thinners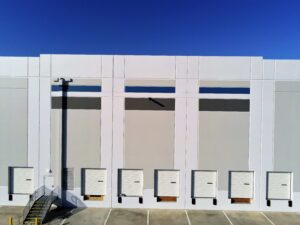 Requirements –
If you're running a facility that deals with hazardous wastes or storing hazardous materials, you'll be required to obtain a permit from the Certified Unified Program Agency or CUPA.
CUPA is authorized to carry out several hazardous materials regulatory programs administered by the State of California and its municipalities.
The State laws and regulations covered CUPA include the following:
Above-ground tanks
Accidental release program (risk assessment and control of highly hazardous substances)
Community right-to-know and spill notification
Hazardous materials inventory reporting
Hazardous waste generator and first three-tiered permits, CA, CE, PBR
Underground tanks
Local codes covered by the CUPA may vary depending on the city.
Facilities dealing with hazardous materials are required to obtain permits from CUPA before they can begin handling underground storage tank construction, removal, modification, and operation.
For businesses suggesting a new hazardous materials facility or modifying an existing one, contacting the agencies listed below is recommended. Please note that these agencies may have additional permits or other requirements during the planning process.
Certified Unified Program Agency (CUPA);
Air pollution control district;
Fire department (which has jurisdiction over the fire code implementation);
Local community service agencies; and
Local planning and building authorities.
The use of elastomeric paints for the project
Again, our crew used an estimated 3,000 gallons of elastomeric paint for the necessary waterproofing. So, did we choose elastomeric paints for this project?
Elastomeric paint is a high-build coating designed for use on masonry and concrete surfaces to prevent water from penetrating interiors.
Elastomeric paints are more commonly used for commercial buildings but can also be used for homes.
The paint's durable but flexible film covers and hides surface flaws, such as cracks, making paint jobs easier and faster.
Here are the following reasons why we chose elastomeric paints for the warehouse project:
The coating is even more durable than the 100% best acrylic paint. Elastomeric paints form a tough and durable film that provides a waterproof coating for almost every surface type.
Elastomeric coatings are flexible; they can stretch and return to their original form without causing damage to the surface. This is why elastomeric coatings are recommended for surfaces exposed to frequent weather changes.
Elastomeric paints provide a very dense coating that can reduce or even eliminate cracking in masonry and wood.
Elastomeric paints don't need multiple coats. As long as the surface is properly cleaned, prepped, and primed, two coats of elastomeric paints are enough to protect the surface from moisture, heat, and other elements.
Elastomeric paints can last up to 10 years or even longer.
How thick is elastomeric paint?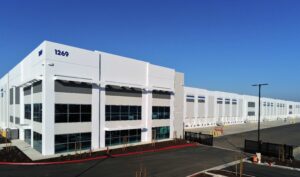 Elastomeric paint is different from other paints primarily for its thickness. Unless you're trained to use this elastomeric paint, applying it to the surface may be difficult.
If you haven't read about or heard of the term "mil," it measures the paint's thickness. A mil equals a thousandth of an inch (1/1000th, 0.001″, or 1.0 mil).
Elastomeric paint's thickness is due to the high volume of solids, making it denser than conventional paints. The paint is applied in films at a dry film thickness ranging from 10 to 20 mils per coat (compared to 2 to 3 mils per coat in regular paints).
Conclusion
Our recent commercial project at IPT-4 Grantline warehouse in Tracy, CA, was successful. Despite the challenges and difficulties, we worked around them to produce a smooth, solid, durable paint finish that would last many years. We are happy to have found another satisfied customer.
Whether you want your cafe, retail store, shopping mall, or manufacturing facility to be painted, contact Custom Painting, Inc.! We consider all jobs to be the same. No job is too big or small. Your commercial property deserves a fresh coat of paint that beautifies and protects it. Contact Custom Painting, Inc. at 510-795-0903 for your free quote!