Custom Painting, Inc.'s commercial painting team recently finished exterior painting Kairos Power, a nuclear research and testing facility in Alameda, CA. However, due to the construction schedule, the team was tasked with painting the exterior of the building during the winter months. Rain, fog, wind, and chilly temperatures were all concerns. 
If you live in Alameda or another city in San Francisco Bay, you know that weather is a big issue during winter. However, since Custom Painting, Inc.'s commercial painters excel at this type of painting project, we still successfully finished the task and added another satisfied customer to our list. 
Read on to learn more about our team's challenges while completing the exterior painting project at Kairos Power in Alameda. 
About the Site
The location was an old rail hangar built for the Navy in the 1940s. It was leased by Kairos Power in 2017 after it was used as a manufacturing building. Many long-standing buildings are too old, and some need to be demolished and replaced by new buildings. However, most of the industrial and civic buildings of the Navy are built to last, and some of them are still in good condition even after centuries. Many of these structures, including Kairos Power's warehouse, are often reused and repurposed. 
The historic hangar's earthquake-resistant features are one of its most intriguing aspects. It has an overhead crane that spans the breadth of the structure and is mounted on rails that run the length of it. An engineering team assessed the historic building's seismic resilience by simulating a significant earthquake jolt that moved and eventually stopped the big crane. These tests indicated that the historic building is likely to withstand strong earthquakes.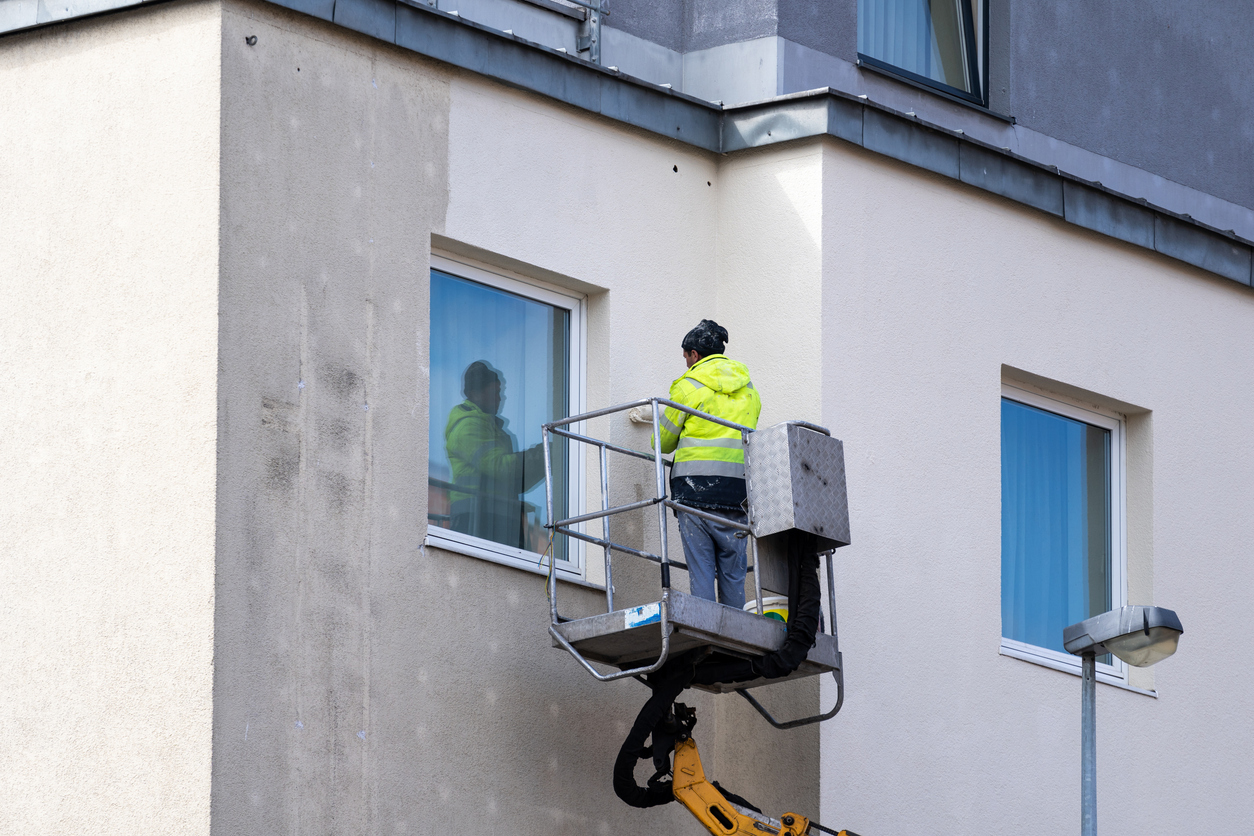 The structure is made of stucco and steel. Despite the lack of interior pillars, the structure is still standing due to a large part of the sub-surface's piling and bracing system.
The old hangar had been repainted numerous times over the years it had been in service. It had been neglected for some years. The paint on the window frames was all lead-based and had to be removed properly. To guarantee that the environment was not contaminated, a lead abatement company removed the lead before painting.
Weather-Related Challenges We Faced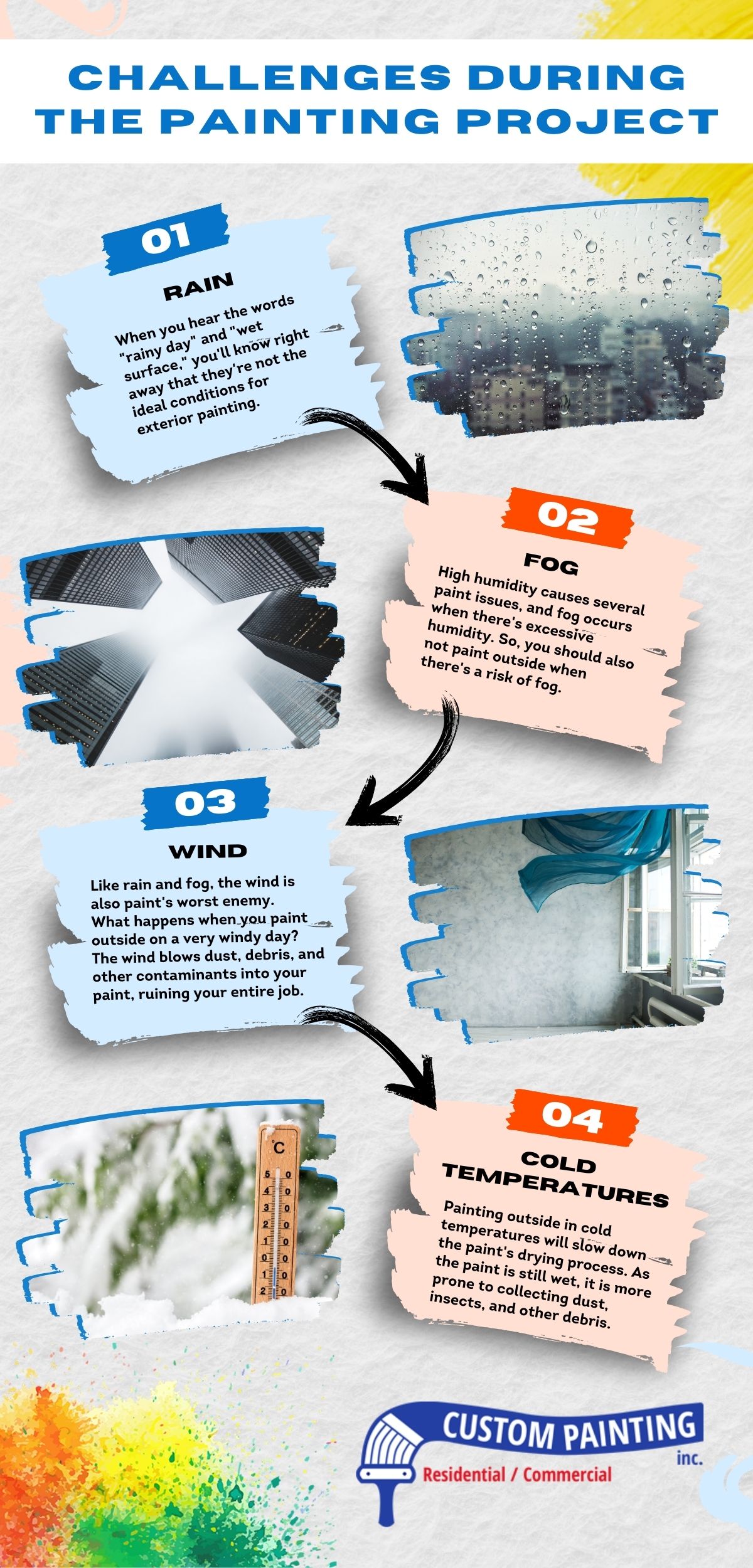 Weather greatly impacts the overall outcome of an exterior painting project. Extreme heat, high winds, and heavy rains are all problems brought about by these weather conditions. Due to the weather, painting a building is exterior mainly relies on the weather. Understanding how the weather influences exterior painting is imperative for a long-lasting paint finish.
The following are some of the weather-related issues that our crew encountered when painting the exterior of Kairos Power. It is critical to understand how each of these influences exterior painting in order to achieve a successful outcome.
Rain
Heavy rain is one of the most difficult tasks for exterior painting projects, and it was one of the challenges that Custom Painting, Inc. faced while repainting the exteriors of Kairos Power. Rain can wipe away the paint and cause it to run or streak, resulting in an uneven and unsightly finish. 
You may take steps to mitigate the effects of heavy rain on your painting work. One of them is regularly watching the weather forecasts and planning the painting schedule accordingly, like our professional painters did. When rain is expected, postponing the painting until the weather improves is a good idea. Aside from that, plastic sheeting or tarps can be used to cover the painted areas and protect them from rain. 
Cold Temperatures
Painting in cold weather provides its own set of challenges, which Custom Painting, Inc. has encountered. However, with a few methods, the procedure can still be successful. One of the most difficult aspects of painting external surfaces in cold weather is that the paint takes a long time to cure. This is really aggravating because it can cause the project's timeline to be extended. 
One alternative is to use paint designed specifically for cold weather circumstances. These paints are frequently designed to dry quickly at lower temperatures. Another concern with painting in cold weather is that the paint may not adhere effectively to the surface. It's because chilly temperatures might cause the paint to thicken and become less smooth. Preparing the surface before painting is critical for resolving this issue. You can also put the paint cans in a warm area or use a space heater to thin out the paint and make it less difficult to use. 
Fog
High humidity can cause a variety of paint difficulties. Fog arises when there is an excessive amount of humidity. As a result, working on outdoor painting projects while there is a chance of fog is not recommended. Excessive moisture in the air inhibits paint from drying properly and can lead to serious problems such as bubbling and peeling in the long run. 
It is also not a good idea to paint right after a thick fog or dew has occurred. It's because the wood absorbs a lot of moisture. As a result, it is preferable to allow the surface to cure for at least a day or two before painting. 
Wind
Wind is another challenge when exterior painting. It's because when you paint the exterior surfaces of a building on a windy day, the wind might blow dust and debris into the paint, ruining the effort. It is also difficult to dab a paint layer when the wind blows. Even if you are able to apply paint on surfaces, there is a good chance that the results will be unappealing since wind might cause the paint to dry too quickly, resulting in insufficient film development. 
Furthermore, painting outdoor surfaces in severe winds is risky since it may cause you to fall off the ladder or scaffolding while you are working. Our team waited until the gusts died down to a mild breeze, which indicates that it is safe to paint outside.
How We Overcame Weather-Related Challenges
To account for any severe weather, our staff had to watch the conditions regularly. Furthermore, we had to choose products that quickly dried in chilly settings. While this increased time to the overall completion, it resulted in a well-painted surface that would last for many years. Our contracts include a clause or wording that allows for additional time due to weather, if necessary.
The most challenging problem was the rain. It caused freshly applied paint to dry on the surface but not entirely hard. This would result in the formation of water bubbles beneath the dried layer, as well as what appears to be alligator skin. We were probably delayed about 20 days (approximately three weeks) owing to rain.
Conclusion
Our paint crew's main problem when working on Kairos Power's warehouse was the harsh weather. Again, rain caused a 20-day (approximately three-week) delay. Aside from the weather, the challenges were usual with repainting an old structure, such as peeling and cracking paint. Despite these obstacles, Custom Painting, Inc. effectively transformed and reconditioned an old structure into a new and modern facility that satisfied our client.
Custom Painting, Inc. is here for all your painting needs if you are also planning to put up a new business in an old commercial building and transform it into a modern space. We are a full-service residential and commercial painting company that has been serving the Bay Area for over 40 years. We have a keen eye for detail and a strong dedication to excellence. If you want to learn more about our services, you may call us at 510-795-0903 or fill out this contact form, and we'll assist you.