Cabinets often take a large chunk of the wall space in a kitchen. So even if you don't have a budget for remodeling, you may be able to get by with a fresh coat of paint for your kitchen cabinets. It can dramatically alter the entire look of your kitchen.
Kitchen cabinet painting remains popular for homeowners and people looking to buy a house. When I need a painter for my kitchen cabinets, I always go for a professional, particularly one with a considerable experience in kitchen cabinet painting. It's not worth getting a botched paint job if you try to DIY it or hire an inexperienced painter when you can hire a skilled professional to deliver an excellent job.
Take a look at the many things you can benefit from by hiring a professional kitchen cabinet painter:
1) Kitchen cabinet color and design consultation
Choosing the best color, design, and finish for your kitchen cabinets can be overwhelming. There are a handful of finishes, and tons of designs, not to mention endless color choices. Even if you choose your favorite color, it may look different once it is applied, and you may not like the result.
Your trusted kitchen cabinet painter has been in the business for many years. Custom Painting, Inc. has been in business for over 40 years. Our team of experts understands the color theory, envisions how colors and finishes would look in different room styles, and is up-to-date on the latest interior design trends. So, if you're unsure which colors or shades will look best for your cabinets, the pros can guide you in the right direction.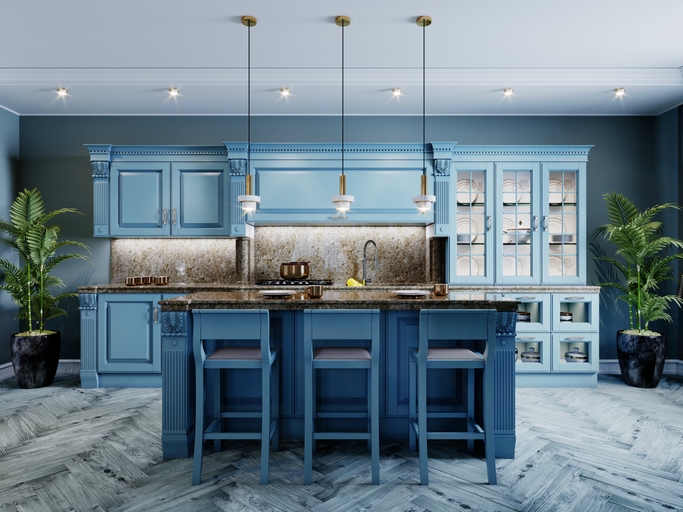 Use their experience and expertise in the field, and let them help you choose the best color for your kitchen cabinets.
2) Proper surface preparation
Like walls, kitchen cabinets require surface prep work before being painted.
A professional kitchen cabinet painter understands that good surface work is crucial. If surface prep work is skipped or incorrectly done, the result may differ from what you expected. Repainting your cabinets is an excellent option for updating your kitchen unless it ends up looking like a shoddy DIY project. Hiring an experienced kitchen cabinet painter guarantees your kitchen cabinet surfaces are adequately cleaned and prepped before painting.
3) The right tools and skills
A professional painter is knowledgeable about the various surfaces and comes equipped with the right tools. They will come to your property completely armed with what any professional painter needs – high-quality brushes, rollers, roller covers, sprayers, repair tools, sanding tools, safety gear, and skill and experience.
When the project is complete, you will see clean lines and no bleeding edges. You won't find stray drips, smudges, and ugly brush and lap marks. You know that the cabinets have been properly finished and thus will stay durable for a long time.
4) Time
You may think of kitchen cabinet painting as a breezy weekend project until you actually get down to work:
You must remove the doors, drawer fronts, shelves, and hardware.
You have to clean the cabinetry first.
Repair scuffs and nicks if you find any.
Sand the surface, then prime it, then sand it again. Finally, paint the cabinets and let them dry – depending on the type of paint used, drying can take up to an hour or about a day. Once the paint dries, it's time to reassemble cabinetry doors, shelves, and hardware.
And that's not all – there's a cleanup of the work area before and after the project.
So, kitchen cabinet painting is not a quick process. It can even take several days. Ample time is required to do the job right. There will be a learning curve for a first-time or inexperienced painter. So, attempting to paint your kitchen cabinets without much prior painting experience may take a long time and, most likely, won't give you the best results. Unless you have the luxury of time, you may be unable to finish the project as quickly as you like because you may have other responsibilities to attend.
A professional paint company can finish the project in less time than a DIY painter since the pros devote all their time to their work. You can continue your daily routine while professional painters are busy making your kitchen cabinets look new and sound again.
5) Quality workmanship
When you compare a DIY paint job to a paint job done by a professional, you'll instantly recognize which has a better result. This is what you should expect when you hire a professional kitchen cabinet painter – quality work.
Painting may look easy. However, it takes skill, time, practice, and effort to get a finish that's smooth, flawless, and even. This is particularly true with kitchen cabinet painting because of the various materials used to construct them.
When you hire a professional painting company specializing in cabinet painting, a team of skilled, experienced painters who have spent years perfecting their craft will provide quality results.
6) Warranty
A reputable kitchen cabinet painter will offer a warranty on their work. When a paint company gives you a warranty, it's an indication of their confidence in their service. A warranty or guarantee will safeguard you from workmanship defects. While warranties vary depending on the painting contractor, they should last one to three years.
7) There is no room for error
Many DIY homeowners believe repainting kitchen cabinets is more manageable than painting the kitchen walls. However, repainting kitchen cabinets also has unique challenges, so this is something other than what you should attempt on your own. Once you apply a dab of paint on the surface, there's no turning back. Remember that painting, even DIY painting, comes with a cost! And committing mistakes can cost you even more.
The goal is not to discourage you from painting your kitchen cabinets but to remind you that if you don't know what you're doing, it's better to hand the job to professionals! If you want beautiful Pinterest-worthy kitchen cabinets to show off, why risk ruining your kitchen cabinets when a pro can do a much better job, not to mention peace of mind?
Reminders for hiring professional painters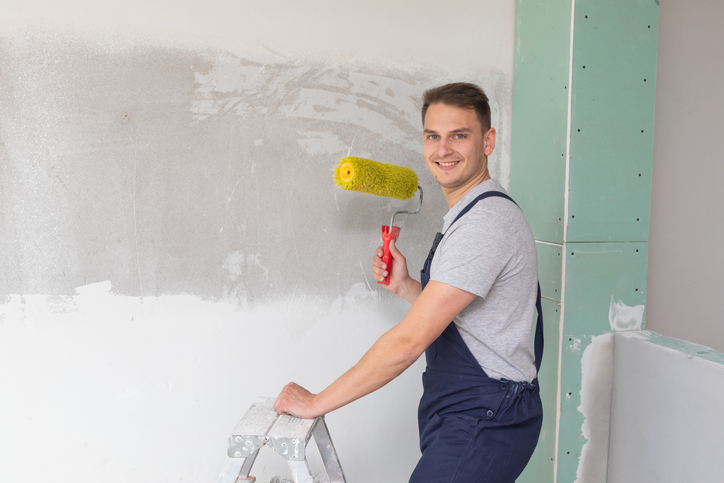 Of course, not all professional painters are created equal. While looking for a professional kitchen cabinet painter, remember that if the quote or estimate seems too good to be true, it probably is. Professionals have also seen a fair share of botched projects.
If the price is right, it may mean fewer headaches during the project and heartbreak at the end of it. Make sure you hire a professional painter who specializes in painting cabinets. Request samples and referrals, review estimates and compare painters until you have made the right choice.
When I need a painter for my kitchen cabinets, Custom Painting, Inc. offers kitchen cabinet painting for residential and commercial properties. Our team also provides free color and design consultation in addition to our typical services, such as interior and exterior painting, custom crown molding installation, etc. In our over 40 years in the industry, we are dedicated to providing solutions for your painting needs.
Please get in touch with our office at 510-795-0903 to schedule an appointment with our estimator or visit our website at https://custompaintinginc.com to learn more about our services.