There are many ways to make your home stay on trend. Painting is preferred, but you may want to do something different. Consider installing crown molding. It creates a separation between the wall and the ceiling, drawing attention to walls, ceilings, shelves, and other built-ins. It adds elegance and grandeur to your interior spaces and can even increase the value of your home.
Not all painting companies install crown molding. Fortunately, most painting service companies in the Bay Area have their websites. You can look at some of their sites to check whether or not they offer crown molding services.
While crown molding has many incredible benefits, you may have some questions. Where should it be installed in the house? Should crown molding be in every room?
Should crown molding be installed everywhere or in one room?
The decision on whether or not crown molding should be in one or every room is ultimately up to you. If you want to put crown molding practically everywhere in the house, it's okay. If you wish to add crown molding in only one room, it's fine, too. The decision is yours based on your preference and what your budget can afford.
However, installing crown molding in every room makes your interiors look more cohesive and creates a seamless look through the house.
So, what rooms are best for installing crown molding?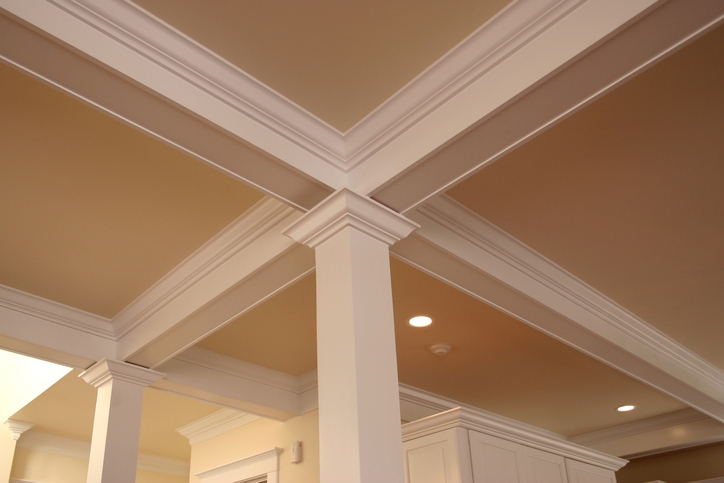 You can install crown molding in all areas of your home or any room you like. 
Many experts recommend installing crown molding in the centralized areas of your house, such as the living room, kitchen, dining room, and family room.
Living room – The living room is one of the spaces that gets regular use. It is where you and your family spend time together and receive and entertain guests. This activity makes the living room an excellent area to utilize decorative elements, such as baseboards, trim, and crown molding. If your living room has a fireplace, the crown molding will enhance its look.
While you don't have to necessarily paint the crown molding in the same way as your baseboards and trim, it otherwise helps keep everything cohesive.
Family room – The family room and living room have pretty similar uses. However, a living room is typically closer to the front of the house, while the family room is usually towards the back. 
As the name implies, a family room is for all family members for rest, relaxation, and recreation. However, it gets as much traffic as the living room, making it an excellent area to install crown molding.
Dining room – The dining room is where families, friends, and guests gather to eat, drink, socialize, and celebrate. Consider installing crown molding if you want to make your dining room look cozier and impress your guests.
Crown molding helps accentuate the area's focal points, especially the dining table and the center lighting above it. Adding crown molding to your dining room elevates the design aesthetic by adding elegance and sophistication without attracting too much attention.
Kitchen – The kitchen is probably the busiest area of virtually every home. It is the place to prepare and cook meals, but it has become a favorite spot to socialize with family, friends, neighbors, and guests.
Since the kitchen usually gets a lot of foot traffic, you want it to look and feel clean, stylish, and sophisticated. The best way to utilize crown molding in your kitchen is to frame the upper part of your cabinets. To create a more harmonious look, paint your crown molding the same color as your kitchen cabinets or in the same color but a few shades lighter or darker.
Bedroom – The bedroom may not be a centralized area of the house, but it's still a great place to put crown molding. It creates a separation between the wall and the ceiling and highlights other bedroom features, such as the door and window trim, archway, and shelves. It also adds coziness to the space.
If you add crown molding, it's best to begin with the master or guest bedroom.
Bathroom – Bathrooms shouldn't be mere utilitarian spaces. They also deserve to look cozy and elegant. So, why not add crown molding there, as well? You will be surprised by the striking results! 
Since bathrooms are typically smaller than other areas of the house, crown molding makes a bathroom feel bigger. It enhances its prominent features, such as the shower area, bathtub, shelves, and mirror. 
Ready to add crown molding to your home?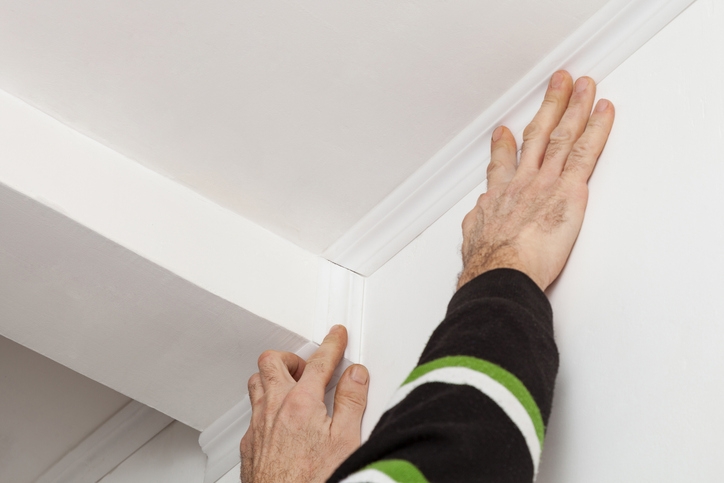 Crown molding is a fantastic addition to your home. It makes your interior look cozier and more sophisticated and adds value to your property. But if you're unsure where to install crown molding in your home, check out Custom Painting, Inc. We will provide the best crown molding style suggestions for a specific room or all the rooms in your house.