There is no substitute for quality paints and tools, proper and adequate surface preparation, and careful work to achieve excellent interior painting near me results.
We usually say, "you get what you pay for." The biggest mistake many DIY house painters make is buying cheap paints and tools that will only provide them with poor results. Others make the mistake of purchasing quality tools only, believing that they would work miracles on cheap but inferior paints.
They seem to forget the fact that painting a home is an investment. If they aim for solid, flawless, and long-lasting results, they should invest in quality paints and tools or hire a reputable local painting contractor to do the work for them.
Here are some must-have tools to make your interior painting job quicker, more efficient, and sure to provide desired results.
Wall cleaner
The most important thing about painting is to have clean walls since a dirty wall could prevent the paint from adhering and result in several surface problems. Choose a classic all-around household cleaner with some water and a sponge to get any dirt off the walls before painting.
Long-handle mop
Long-handle mops make cleaning walls and ceilings much easier and faster while leaving them squeaky clean and ready for paint.
Painter's tape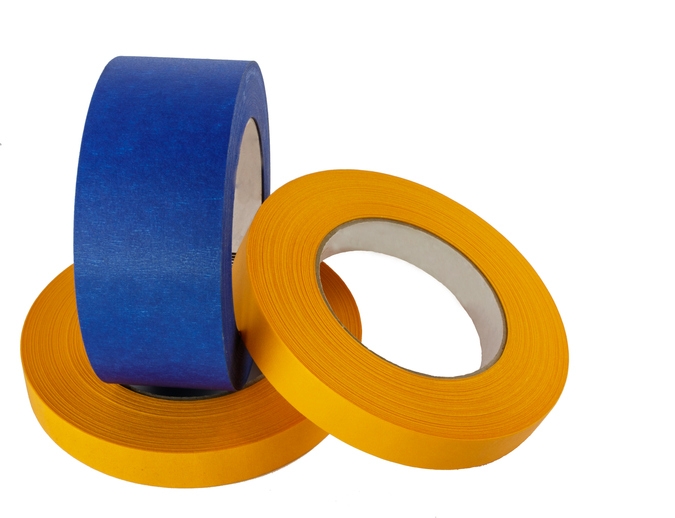 Paint projects seem daunting. A poor paint job can result in drips or streaks on your door and window trim, aka places you do not paint, making the task even more perplexing. To save you from frustration:
Cover them with quality painter's tape – not just any tape. While buying quality painter's tape like 3M, Frogtape, or ScotchBlue is essential, it's more about how you use it.
Once the tape is on the wall, run a clean, damp rag over the edge to create a seal.
Look out for the tape's release date or when it needs to come off – the date varies from 15 to 30 days.
Canvas drop cloths
Drop cloths are a must to protect your floor and furniture from dripping paint. While canvas drop cloths are more expensive than plastic sheeting, canvas drop cloths do the job better. Plus, they're less slippery and reusable, making them worth the purchase.
Quality brushes
You should purchase a 2 ½-inch angled brush to cut in corners or paint trim and a 4-inch brush to cover flat and broad surfaces faster. Look for reputable brands such as Benjamin Moore, Purdy, and Wooster.
Quality rollers
A 9-inch roller with a synthetic core and a 3/8-inch nap is ideal for most paint jobs. Mini-paint roller frames are suitable for painting around smaller spaces. Look for quality brands like Ace and Shur-Line.
Five-gallon plastic paint bucket
For larger spaces, a five-gallon plastic paint bucket will come in handy for pouring and mixing paint. Even if you use the same color, there may be a slight variation from one can to another. Thus, combining the paints in one large bucket – also known as "boxing" – will help you achieve consistent color throughout the space.
Paint sprayer
If you hate to see brush or lap marks on the wall, invest in a paint sprayer, especially if you tackle many paint projects. Some brands offer lightweight sprayers that can hold up to 32 ounces of paint, work on interior and exterior surfaces, and spray in any direction, so you can even spray paint on the ceiling.
Paint pen
There are areas that a paintbrush or roller can't access. Thus, a paint pen is handy for touch-ups on walls or detailed architectural features. Load the pen with paint, and you're ready to go. Some pens keep the paint fresh for up to seven years.
Paintbrush covers
Almost all paint jobs take more than a day to finish. Thus, paintbrush covers are a must to prevent your paintbrushes from drying out if you have to use them the next day. These covers will also save you from washing your brushes before using them again.
Fiber mesh tape
If you're patching larger holes, fiber mesh tapes are a must. Look for versions from reputable brands like Hyde, Purdy, or Shur-Line.
4-in-1 patch plus primer
Patching up small cracks and nail holes is now easier and quicker with this 4-in-1 patch plus primer. 3M offers this innovative product, which comes in a tube that includes a spackle with primer, a putty knife on one end, and a sanding pad on the other. Apply the spackle, smooth it out with the tube's built-in putty knife, allow it to dry, and sand it with the tube's sanding pad until it becomes flush with the wall. Now, you're ready to paint it.
From basic must-haves to the latest innovative gadgets, these tools allow you to tackle interior painting near me projects faster, more quickly, and more efficiently.